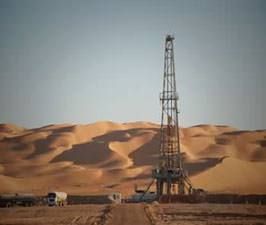 IMMEDIATE RISK: SURFACE TEMPERATURE NEARING 180°F / 83°C
DRILL COOL SYSTEMS INSTALLED 2 GEO‑COOLERS IN PARALLEL MAINTAINING MUD PIT TEMPERATURES TO A STABLE AND SAFE CONDITION.
Project Information


Drilling Conditions
Location: Maradi Huraymah field - Oman
Block: 62
Type: Exploratory HPHT Wells
Depth: 15,000-20,000
Surface returns: 180°F / 83°C
Circulation Rate: Various thru sections
On Drill Cool Solution


Client Testimonial
"Please note that the Drill Cool Mud Coolers™ appear to be operating very well at present and we have been able to maintain temperatures in the 130°F – 140°F for the most part."
Phil Green - Drilling Fluids Specialist Occidental of Abu Dhabi Ltd. Abu Dhabi UAE
Drilling mud was: 50°F /29°C above safe operating temperatures recommended by the ABA of 140°F / 60°C
DCS Engineering Services
Thermal Hydraulic Wellbore Modeling
WELLBORE MODELS
Drill Cool offers in-house Wellbore Modeling Expertise, assisting the client to evaluate the total heat load from the drilling system making solutions clear.
Drill Cool GEO‑COOLER™
(3 units ran in parrallel)
Surface Mud Return returns were reduced to:
130°F / 54°C
Total reduction to Surface Return Temp:
36°F / 20°C
RESULTS SUMMARY
Above is part of the record from an old well being drilled with WBM. You can see that the flowline temperature was a maximum of 91°C before the mud cooler was rigged up, almost immediately the flowline temp was reduced by 15 -20°C and we were drilling deeper so the flow line temperature would probably have reached about 96°C without the mud cooler. We have seen the flowline temperature as high as 98°C without a mud cooler in the 8 3/8″ section (oil based mud).