Temperature Related Risk Evaluation
A powerful tool that helps you understand the thermal risks of your well
Risk Evaluation Tool
Drill Cool Systems developed the Temperature Risk Evaluation Tool to help their customers identify thermal-hydraulic risks within their drilling program, especially during the early design stages of the well. We worked to incorporate 35 years of global HPHT experience into this essential tool.
There is no cost or obligation - so in less than 10 minutes, you can begin to understand what the thermal-hydraulic risks are associated with your well plan.
Results Summary
Thank you, , for using the Drill Cool's Risk Evaluation Tool. Please contact us if you have any questions regarding your results.
Ambient Temperature:
Water Depth:
Drilling Fluid Type:
Drilling Fluid Density:
Flow Rate:
Hole Diameter:
Drill Pipe Size:
Measured Depth(MD):
Vertical Depth(TVD):
Static Bottom Hole Temperature(SBHT):
Equivalent Circulating Density:
Maintenance Cost:
Temperature Risk:
Temperature Risks:
ECD Correlation/Prediction:
Take Evaluation again
Engineering Services
With more than 35 years of oil & gas and geothermal drilling industry experience, Drill Cool Systems is the only company that offers a distinctive synergy of high temperature drilling expertise and knowledge with the vastest selection of proven drilling fluid temperature control equipment.
Empowered with innovation, experience, and the best mud cooling equipment, the team at Drill Cool Systems continues to make each high temperature drilling environment safer and more efficient. From the hottest geothermal wells, the deepest HPHT wells, and the most difficult wellbore temperature control wells of the arctic permafrost — Drill Cool Systems is the solution to your Well Temperature Control problems.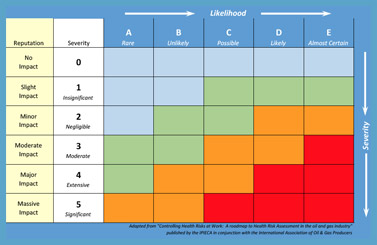 Download Thermal Risk Severity Matrix
View our Engineering Services
Thermal Hydraulic Modeling
The modeling and characterization of drilling conditions are essential to understanding the temperature related hazards of an HPHT well – risk that exists both within the wellbore and on surface. Due to the pressure-volume-temperature (PVT) relationship within the drilling system, a thermal hydraulic evaluation of the drilling plan is critical. Some temperature risks may be directly related to extreme pressure and flow conditions encountered within the wellbore.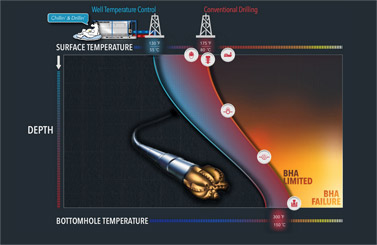 View Thermal Hydraulic Wellbore Modeling
Download Model Input Form
Solutions Selections
The Drill Cool System is an integral part of your drilling team. Our technical staff and mud cooler technology offers a synergy of drilling experience coupled with Well Temperature Control™ (WTC), known as Managed Temperature Drilling™ (MTD) technology. By pairing the most robust drilling fluid temperature control systems with our engineering knowledge and experience, we are able to control the temperature of the drilling fluids on surface. We then deliver the temperature controlled fluid to the downhole environment, protecting the wellbore and BHA components.
Let our technology streamline your project by increasing safety & reducing downtime. Our solution selector will help you decide which solution best suits your needs.

View our Solutions Selector