MEDCOENERGI
PT ANTAREJA RESOURCES
Drill cool systems installed three Geo-Coolers™ running in parallel, returning the mud pit temperature to a stable and safe condition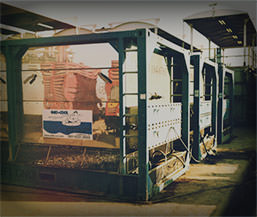 IMMEDIATE RISK: SURFACE TEMPERATURES NEARING 213°F / 101°C
The Medco Energy Lemetang SINGA 3 & 4 Well had a true vertical depth (TVD) of 11,100ft. / 3383.28m. The established trajectory was a 45° angle kick off point until 9,900 ft./ 3018 m. The second kick off of 88° angle until 11,100ft. / 3383m., then horizontal 1,400ft. / 427m. Utilizing OBM mud, 17.4PPG 5.5 DP.
Project Information


Drilling Conditions
Location: Sumatra - Indonesia
Well Name: Lematang Well SINGA 3 & 4
Well Type: HPHT Onshore
Depth: MD 12,500ft. TVD 11,000ft.
Coordinates: 0.0000° S, 102.0000° E
Surface Return Temp: 213°F / 101°C
Bottom Hole Temp: 352°F / 178°C
Circulating Rate: 900 GPM / 3,407 LPM
On Drill Cool Solution


Client Testimonial
"The Drill Cool Mud Coolers had outstanding performance on our HPHT MEDCO ENERGI project -Lematang SINGA 3 & 4. With downhole temperatures nearing 350°F the mud coolers were excellent and kept the mud pit temperatures stable and safe, we were very satisfied."

Askar Kartiwa - Owner/Director of PT Antareja Resources
Degrees above 2nd degree burns to skin:
63°F / 17°C
DCS Engineering Services
Thermal Hydraulic Wellbore Modeling
WELLBORE MODELS
Drill Cool offers in-house Wellbore Modeling Expertise, assisting the client to evaluate the total heat load from the drilling system making solutions clear.
Drill Cool GEO‑COOLER™
(3 units ran in parrallel)
Surface Return Temp. reduced from:
213°F / 101°C to 130°F / 54°C
Total reduction to Surface Return Temp:
83°F / 28°C
RESULTS SUMMARY
The Drill Cool Solution delivered a safe Mud Supply keeping Equipment and Personnel safe from damage and harm.  The cooler mud temperatures also yielded savings in spare parts, drilling fluid, and chemical costs.